The manufacturing facility will be located within Velankani Technology Park and represents a further confirmation of the strategic importance of India in Delvitech's development plans.
Delvitech proudly announces the beginning of automated optical inspection systems manufacturing in India, marking a significant milestone in the company's expansion strategy. The announcement is delivered by Vasanth Kumar, COO of DelvitechAI Vision Systems India Pvt Ltd.
Building upon the foundation established with the inception of DelvitechAI Vision Systems India Pvt Ltd in Bengaluru, India, situated in the prestigious Velankani Technology Park in February 2022, Delvitech is delighted to unveil its nationwide production operations.
This achievement underscores the fruitful collaboration between Delvitech and the Velankani Group, which has provided the space required for manufacturing optical inspection systems. The manufacturing facility, spanning more than 13,000 square feet, is strategically located inside Velankani Technology Park, a sprawling 23-acre, zero-emission campus nestled in Electronics City, Bengaluru. This action reaffirms India's pivotal role in Delvitech's strategic growth initiatives ad underscores the sustainable nature of this choice.
The Asia Pacific region has witnessed a remarkable surge in its significance within the automated optical inspection systems market, claiming a market share of nearly 50 percent in 2019. This dominance is poised to persist, with an estimated average industry Compound Annual Growth Rate (CAGR) of 19.5 percent between 2022 and 2032. Furthermore, the escalating demand for electronics in nations like India has propelled growth in the electronic components sector, further underscoring India's importance in Delvitech's expansion roadmap.
The new office in downtown
In parallel with the launch of the manufacturing plant, Delvitech will enhance its presence in India by establishing new offices, including a dedicated demonstration facility. This impressive space will be situated at Sree Rama Deeneva, No. 21 Ulsoor Road, Bengaluru 560 042.
These strategic initiatives will grant Delvitech an expansive footprint within the region, ensuring it is well-equipped to provide on-site technical support, encompassing machinery installations, training sessions, and the provision of spare parts.
This momentous expansion is a testament to Delvitech's unwavering commitment to delivering cutting-edge technology solutions while further affirming its presence in the flourishing Indian market.
About Delvitech
Delvitech is a pioneering company specializing in the development, manufacturing, and supply of sustainable AI-based technological solutions for 3D automated optical inspection of assembled printed circuit boards.
At the core of Delvitech's operations lies a relentless commitment to research and innovation. The company seamlessly integrates artificial intelligence with leading-edge engineering technology, resulting in a unique inspection system catering to all Surface Mount Technology (SMT) and Through-Hole Technology (THT) production phases.
Characterized by self-programming features, Delvitech's software, in conjunction with its proprietary patented multi-camera optical head, precision-engineered in Switzerland, delivers unparalleled inspection capabilities. The web-based software is unique, modern, singular and its ultimate goal is to automatically generate inspection programs, that can even be shared through the cloud.
The result is the continuous improvement of the entire manufacturing process, making it faster, steadier, more scalable.
Delvitech solution means less errors, less waste, less CO2, more future.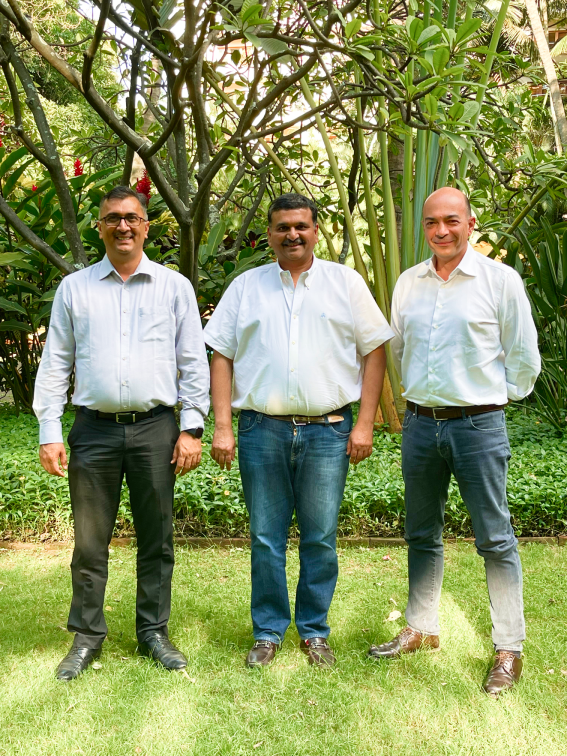 Photo Credit: Delvitech SA
In the picture (left to right): Vasanth Kumar, COO of DelvitechAI Vision Systems India Pvt Ltd., Kiron Shah, Managing Director at the Velankani Group, Roberto Gatti, CEO at Delvitech SA.